DAVID DUDECK
WIDE RECEIVER (5010 / 192)
BOSTON COLLEGE

---
---
---
ESPN "Draft Guru" Mike Mayock Quote:
" David Dudeck was a competitive and selfless player at BC..RB, Slot, PR, special teams coverage - whatever they asked him to do - he did with high energy and productivity... He is the type of kid that will show up week one on somebody's active roster and the other 31 teams will be left wondering why they didn't do more homework on him ." Mike Mayock
---
February, 2016 -- We are happy to announce the signing of 2016 NFL Draft eligible WR/PR/KR DAVID DUDECK (5010/192), out of the Boston College. For your convenience, we've included video/bio links at the bottom, right hand column.
David played as a true freshman and lettered all four years at Boston College. For the Eagles he played multiple positions (RB, HB, WR, PR, KR) on offense and special teams. He is a very unselfish player that always put the team first before his stats.
2015 Season:

Was prestigious Scanlan Award recipient at BC for "outstanding in scholarship, leadership, and athletic ability"
Finished season with 15 receptions for 127 yards
On 11-7 had 7 receptions for 81 yards versus NC State
Athletic Director's Award for Academic Achievement
Boston College Leadership Award

2014 Season:
Saw action in 11 games after missing the first two games due to injury. Recorded 13 total receptions for 148 yards on the season, averaged 11.4 yards per catch. Recorded five tackles on special teams. Earned the Athletics Director's Award for Academic Achievement.
Returned a kickoff 15 yards and registered an 11-yard pass at Virginia Tech (Nov. 1)
Tallied a career-high 58 receiving yards, including a career-long, 41-yard grab, on three catches at Wake Forest (Oct. 25)
Caught a 21-yard TD pass in overtime to give the Eagles a six-point lead in the New Era Pinstripe Bowl against Penn State (Dec. 27)

2013 Season:
Saw action in all 13 games as a wide receiver, running back and return specialist. Finished the season with 11 receptions for 84 yards and one touchdown; ranked third on the team in receptions, returned nine kickoffs for 130 yards (16.0 average), returned three punts for 25 yards (8.3 average). Tallied a career-high 48 kickoff return yards against Florida State (Sept. 29). Earned the Athletics Director's Award for Academic Achievement.

2012 Season:
Appeared in nine games as a true freshman, registered three starts at running back. Earned All-Atlantic Coast Conference Academic Team honors. Ranked third on the team with 111 rushing yards, recorded 21 receptions for 155 yards out of the backfield. Earned the Athletics Director's Award for Academic Achievement.

Should you have any questions, wish to discuss David more fully, or arrange for individual workouts before the NFL draft please feel free to reach out to us at any time.

Thanks, as always!
Paul Sheehy, President/General Counsel
Warren Schmidt,Senior Vice President
Jon Baker,Vice President
Phone: 303-948-1510
DAVID DUDECK
Height: 5010
Weight: 192
Airport:Philadelphia, PA (PHL)
---

Training with Chip Smith

---

Will be participating in Boston College Pro Day on March 16

---
Boston College Graduation Date: May 23, 2016
---
---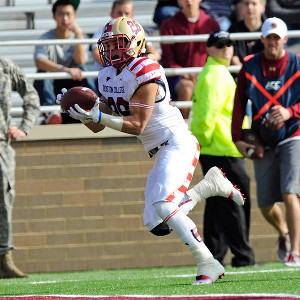 ---
--- QUICK Video Links
Just click!